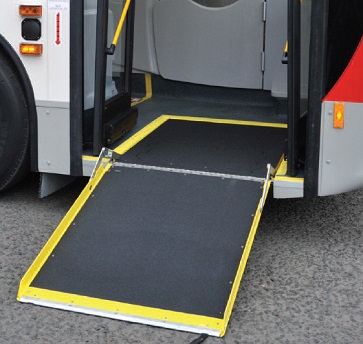 FoldOver® FR2E for Low-Floor Buses
The Ricon FoldOver® FR2E low-floor bus ramp provides convenient access for the mobility-challenged using wheelchairs and walkers as well as passengers with shopping carts and strollers. Reliable and easy-to-operate, the FoldOver FR2E ramp features a unique electric drive assembly with a patented regenerative braking system for stable platform speed during deployment and stow with power or manual operation. Rugged stainless steel construction and low maintenance delivers exceptional value. Meets or exceeds all FMVSS, ADA, CSA and D409 requirements.
Solid-state fully-electric drive system
Rated 1,000 lbs. (453 kg) load capacity
Obstruction detection during deploy and stow
Water-resistant electrical connections
Front or reat entry installation
Stows flat
Non-slip ramp surface compatible with all transit floor covering
Manual operation requires no valve or switch movement
Water-resistant controls
Two-year limited warranty, extended warranty available
Customer orders available to meet installation requirements
For complete features and specifications, download the FoldOver® FR2E product brochure.

Download PDF brochure

For information, email ripinsales@wabtec.com